Recipes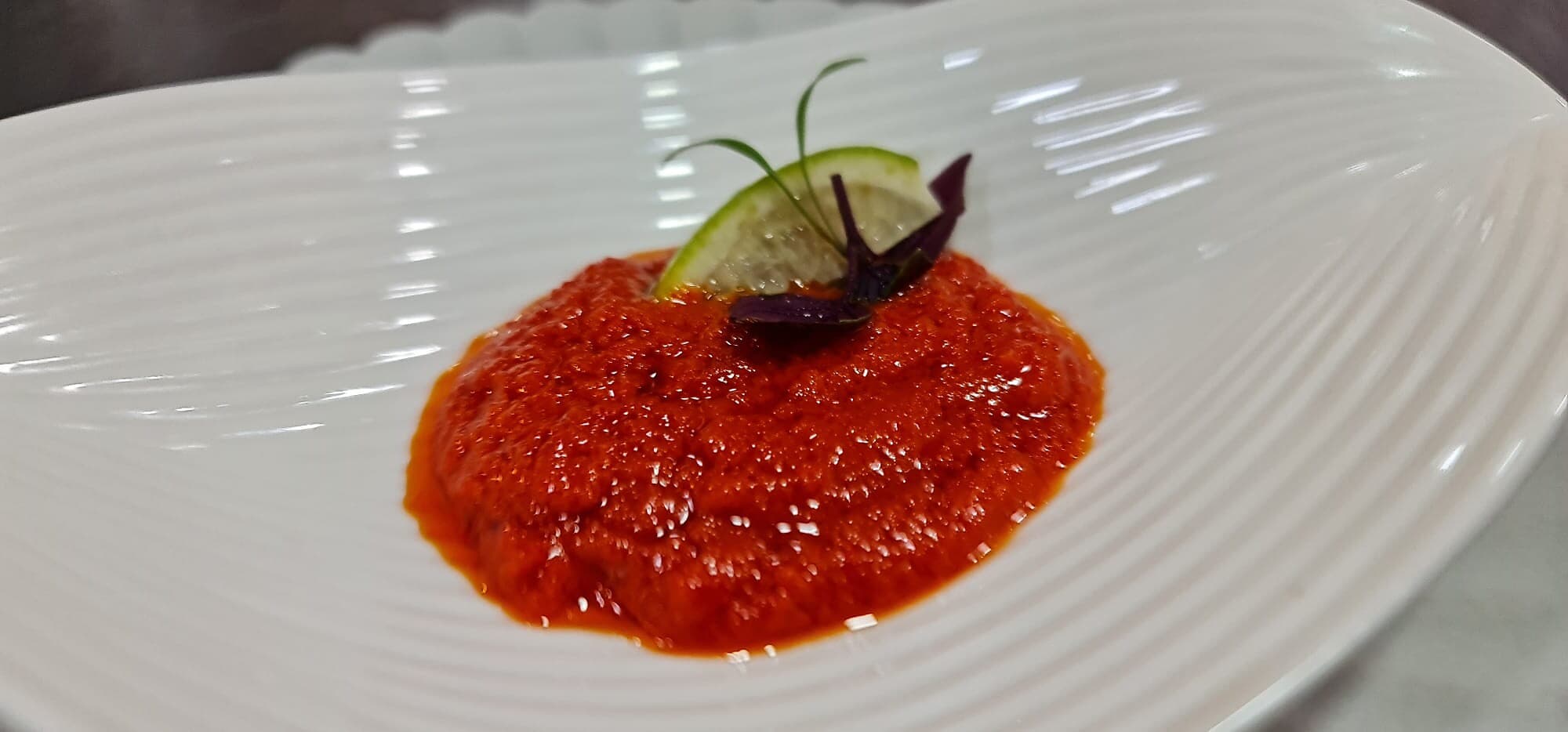 Chef Daren's Sambal Chilli Belachan
Ingredients:
Old Man Trademark Belachan Paste - 40 gm, Fresh Shallot - 50 gm, Fresh Garlic - 30 gm , Fresh Tomatoes - 35 gm, Bird Eye Chillies - 10 gm, Fresh Red Chillies - 150 gm, Fresh Lime - 60 ml, Castor Sugar - To Taste, Salt - To Taste, Banana Leaf - 1 Pieces, Knife Brand Cooking Oil - 200 ml
Directions:
Firstly, wrap the dry shrimp paste belachan with a piece of banana leaf, and baked till fragrance, approximately 25 minutes. Use a pan to slowly pan-fry the shallot, garlic, red chilies, bird eye chillies till fragrance. Add in the 200 ml cooking oil, and the toasted belachan to the pan, and continue fry til fragrance and soft. Transfer everything to a mortar and grind everything till become a smooth paste. Lastly add in sugar, salt and fresh lime juice. Ready to serve as a dipping for seafood, meat or even and stir-frying dishes.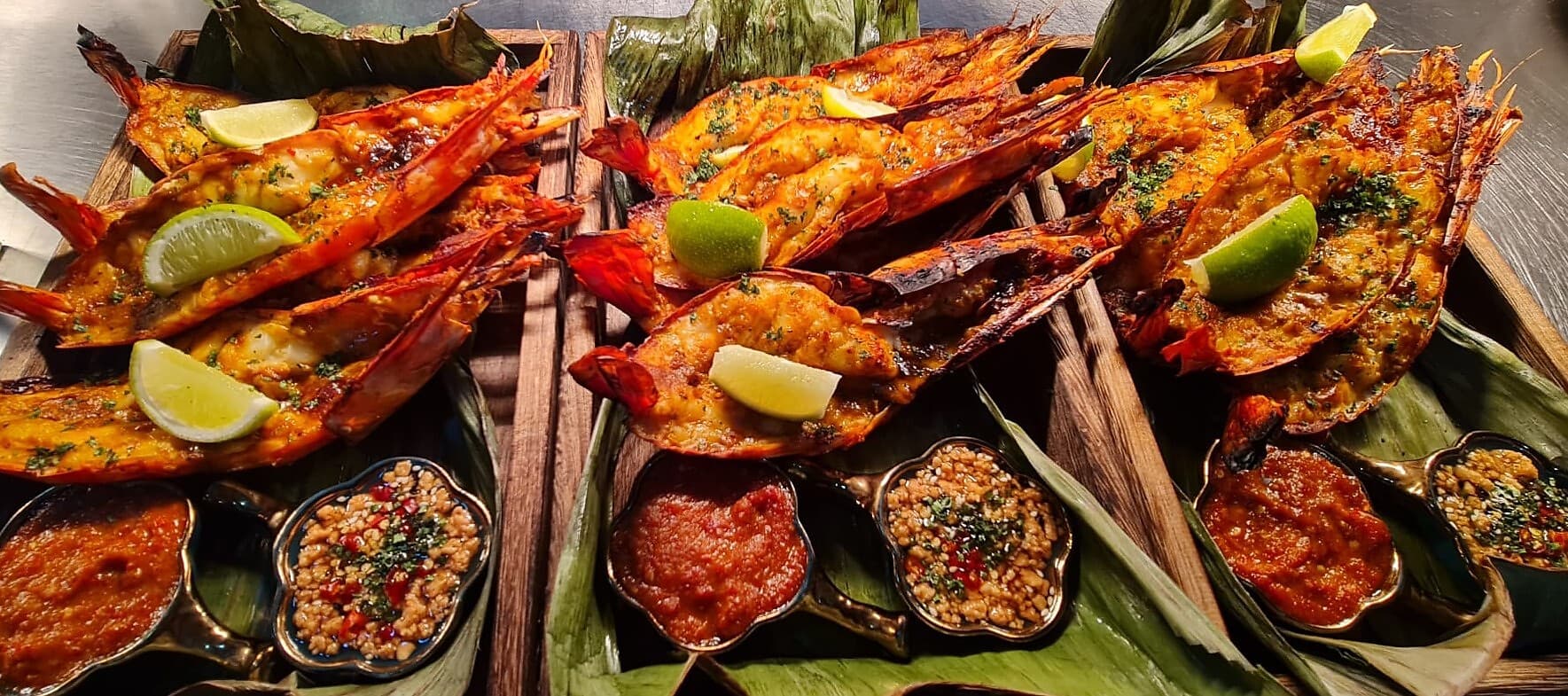 Char-Grill Wild Caught King Prawn With Lemongrass, Chilli Peanut And Sambal Belachan Dressing
Ingredients:
Wild Caught King Prawn- 4 Pieces, Fresh Banana Leaf - 2 Pieces, Fresh Lime - 2 Nos (Cut And For Garnishes)
Directions:
Tamarind Paste - 20 gm (Mix A Bit Water To Dilute And Form A Puree), Seafood Curry Powder - 20 gm, Chopped Fresh Lemongrass - 20 gm, Worchesthire Sauce - 5 ml, Salt - To Taste, White Pepper - To Taste, Tumeric Powder - 3 gm, Kikkoman Soya Sauce - 5 ml, Chef Daren Sambal Dressing - 20 gm (Please Refer To Recipes)
Chilli Peanut Dressing
Ingredients:
Fresh Chilli - 30 gm, Fresh Spring Onion - 10 gm, Toasted Ground Peanut - 150 gm Water - 200 gm, White Wine Vinegar - 100 gm, Sugar - 160 gm
Directions:
Boil water, white wine vinegar, add in sugar till dissolved. Let it cool of all things, finally add in chopped fresh chilli, toasted ground peanut and spring onion. Ready to served as dipping.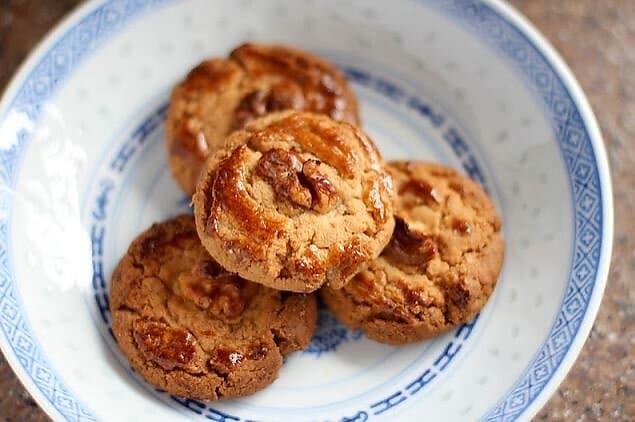 Cantonese Style Baked Walnut Cookies
Ingredients:
Soft Flour - 260 gm, Lard - 140 gm, Salted butter - 30 gm, Sugar - 150 gm, Baking soda - 2 gm, Baking powder- 2gm, Chopping walnut- 60 gm, Egg York- 50 gm
Directions:
Mix butter, lard and sugar, then add in egg yolk. Mix thoroughly till the sugar is dissolve. At last, add in flour, baking soda, baking powder and chopped walnut. Rest for 20 minutes and wrap with a cling film. Form a dough and make a cylinder shape. Portion each piece into a 12 gm. Pre-heated the oven, baked at 160 Celsius for approximately 16 mins.